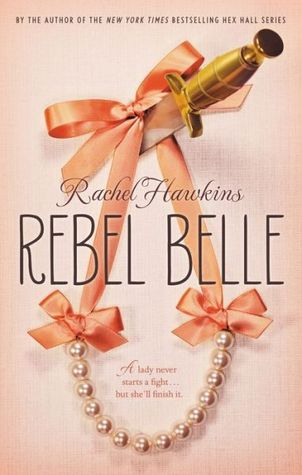 Title: Rebel Belle (Rebel Belle #1)
Author: Rachel Hawkins
Format: Ebook (Putnam Juvenile | Owned)
Find it on: Goodreads | Book Depository
Blurb (Goodreads):
Harper Price, peerless Southern belle, was born ready for a Homecoming tiara. But after a strange run-in at the dance imbues her with incredible abilities, Harper's destiny takes a turn for the seriously weird. She becomes a Paladin, one of an ancient line of guardians with agility, super strength and lethal fighting instincts.

Just when life can't get any more disastrously crazy, Harper finds out who she's charged to protect: David Stark, school reporter, subject of a mysterious prophecy and possibly Harper's least favorite person. But things get complicated when Harper starts falling for him–and discovers that David's own fate could very well be to destroy Earth.

With snappy banter, cotillion dresses, non-stop action and a touch of magic, this new young adult series from bestseller Rachel Hawkins is going to make y'all beg for more.
My Thoughts:
Why did I pick up this book?
I bought this book as there was a read-a-long for this book then. Another reason was that I heard amazing things about Rachel Hawkin's Hex Hall series and I have yet to read them. I decided to join the bandwagon, read it and here's my review!
The Plot:
Its been a while I read such books and it took me a while to adapt to the situation in this book. And its pretty cool with paranormal elements inside. So Harper is the school's Homecoming queen and she has top positions in the school's various clubs. When she was crowned Homecoming Queen, despite receiving her crown she was trapped in the washroom with the school's janitor was being chased and attacked by her history teacher. Harper was a kick-ass though she was the school's stellar student. She killed her history teacher with her heels. I liked the fact that we jump straight into action and I felt that it was a great start. However, I felt that it started off too quickly cause I felt that it kind of got boring at the later part. However, I kind of like the paranormal factor in this book. With the Oracle, the Paladin  and the Mage. I also liked the plot twists in the story and my predictions were mostly proved wrong. That shows that how unpredictable this book was written.
The Characters:
The part which I looked most forward to was Harper and David's conversation. They are like having a constant debate most of the time and its full of wit and humor and this lightens up the mood in the book. I felt that Harper should have broken up with her boyfriend earlier instead of before the cotillion. I felt that it was very impromptu and abrupt. Their relationship was already falling into pieces and although Harper wants to salvage it, I guess she does not 100% wants to save it. If she really wanted to save that relationship, she would have abandoned that whole Paladin duty and work on her relationship. And hence I think she should not have dragged their breakup and instead done a clean one so it would not affect her Paladin duty.
The writing:
I really enjoy Rachel Hawkins' writing style. It has humor and wit in it and reading it was really enjoyable. And this makes me want to quickly dive into the Hex Hall series before the sequel of Rebel Belle comes out.
What do I look for in the sequel?
I would expect more explanations about the whole Oracle stuff and I'm guessing it would be rather information concentrated and hence it might make the story dry and I might get bored. But I'm really looking forward to reading the sequel:)
Rating: 3/5 stars